Industrie 4.0 : Intelligent Production of Tomorrow
The world is changing: it is becoming more digital, intelligent, and flexible. Initiatives such as Industrie 4.0, the Industrial Internet Consortium (IIC), and China Manufacturing 2025 are providing the first responses to the question of how digitalization will affect industry.
The intelligent production of tomorrow

Phoenix Contact – your partner for Industrie 4.0 We make your production systems ready for the future with our experience and solutions.
Passionate about your industry
Satisfaction isn't enough. We want to inspire: with industry know-how, intelligent technology, and support directly on site.
Each sector of industry places particular demands on system automation. In our dedicated Industry Teams, we focus on these challenges with technical know-how and passion, and together with our international customers we develop tailor-made turn-key solutions. Our industry specialists provide support for a great variety of projects.
Excellent products are at the heart of our solutions. Cleverly combined to create innovative systems and supplemented by industry-specific features, they ultimately become industry solutions of proven Phoenix Contact quality.
Category

The working groups of the Plattform Industrie 4.0
The technical and substantive work of the platform takes place in thematic working groups in five different areas: reference architectures, standards and norms, research and innovation, security of networked systems, legal framework and work, education and training.
Read More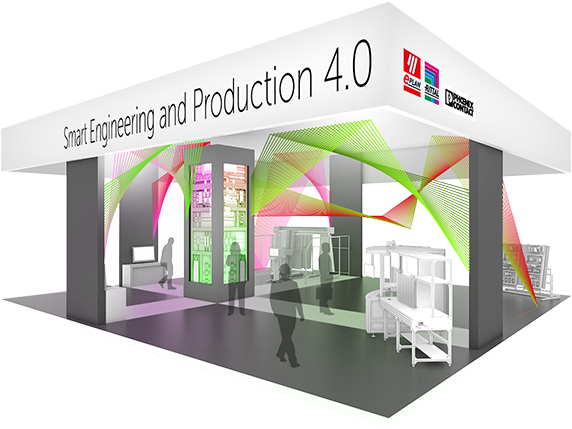 Smart Engineering and Production 4.0
A continous virtual engineering is a prerequisite for Industrie 4.0: Eplan, Rittal and Phoenix Contact present the complete integration of digital data into product development and production in 3 dimensions. – vertical over business processes – horizontal along the value-added-chain – temporary over the product lifecycle
"From the Top Floor to the Shop Floor" – this simple formula describes the joint commitment of the three leading solution providers in Engineering, in Control Cabinet System- and automation technology"Smart Engineering and Production 4.0" shows the continuous, automated process starting from the digital article through engineering to production.
Read More
Industrie 4.0